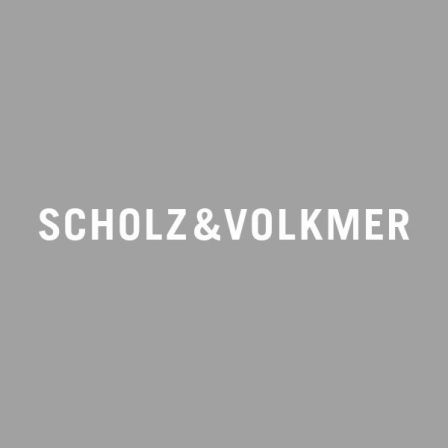 Scholz & Volkmer
Business
Culture and Creative Industries
Type of Design
Animation
Communication and Graphic Design
Corporate Design
Design Strategy and Brand Consulting
Service Design and User Research
Transportation Design
Universal Design
Web, Apps, UX and Interface Design
Services and specializations
Whether it is a classic website, a mobile app, social media content or operating systems in vehicles, we are interested in everything that has a screen. We can offer the complete project cycle right from the strategy, to the creative campaign idea, to producing the content for various channels, and then on to community management support. This includes not only the digital but also traditional competency areas such as brand design or print production
Scholz & Volkmer's objective is to use creativity and innovation so that their clients' economic goals can be reconciled with the challenges faced by today's society. This means Creating Shared Value - through projects which yield returns for brands, help people, and make the world a little better too. The solution to challenges in society does not mean that businesses have to sacrifice their success; on the contrary, their success is its basis. It allows brands to penetrate through the media and to become relevant. With products such as the Kiezkaufhaus (online shopping at local retailers - sustainable alternative to Amazon) Scholz & Volkmer frequently put their own Shared Value initiatives into practice, without having business client orders.
Description
Scholz & Volkmer develops interactive applications, which delight through creative ideas, valuable design, intuitive user guidance and future-oriented technical solutions. In the creative agency for digital brand management, based in Wiesbaden and Berlin, more than 160 employees work for clients such as Mercedes-Benz, Coca-Cola, Deutsche Bahn and Riese & Mueller, but also the Deutsche Nachhaltigkeitspreis (German Award for Sustainability) and regional environmental initiatives. With Succes: With more than 650 national and international Awards, Scholz & Volkmer ranks among the most creative agencies in Germany. In the current PAGE Digital-creativity ranking Scholz & Volkmer ranks 7th.
Scholz & Volkmer are the first German digital agency to go carbon neutral in 2010 and unites with Shared Value the goals of brands and common good. The agency runs serveral own products and platforms in the area of sustainability such as the "Radwende", "Zeit statt Zeug", "Stadtluftanzeiger" and the E-Commerce-Start-up "Kiezkaufhaus". Scholz & Volkmer also organizes one of the biggest design conferences in Germany, the see-Conference.
Customers
Beispiele:

Mercedes-Benz

Coca-Cola

Deutsche Bahn

Riese & Müller

Deutscher Nachhaltigkeitspreis

Samsung

La Roche-Posay

adidas

Klima-Bündnis
Address
presse@s-v.de
www.s-v.de/


go back